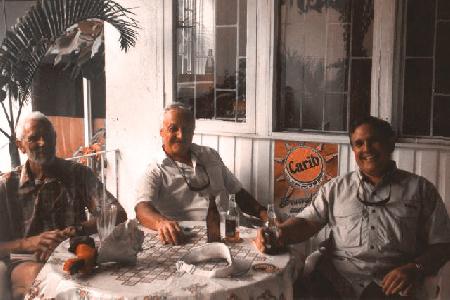 Alastair Andrews from New Zealand, David Cox from England, and Dave Bowen from America drinking a cool one on St. Vincent. Alastair was the captain and owner of the vessel, the Mollymawk of Vancouver.

The newsletters to the right give a great insight into life aboard a 41 foot cutter for 10 weeks. We were run over by a local fisherman while we were in the dingy at Vieux Fort. We sampled all of Pappy's rum concoctions on Grenada and experienced an adventure getting back to the boat. We had a great time with Granny Jemima on Dominica, talking and drinking rum with coke chasers, and had to grab a ride on a motorcycle to get back to the boat. We searched for fresh water showers in each port we entered and found 2 with hot water. We ate a marvelous lunch on Union Island with a transplanted British lady,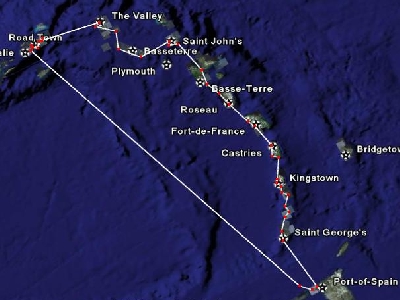 we celebrated Alastairs 74th birthday on Hillsborough, we rode motor scooters around St. Barts, we partied at Shirley Heights on Antigua, we snorkeled at Great Dog Island, drank beer on Josh Van Dyke Island, and we listened to Diana Krall Jazz an entire afternoon sitting on the beach at a small bar on Anguilla.

It was a very exciting trip! We had a lot of fun!
NEWSLETTERS
Trinidad to Grenada, plugged loo, Pappy's: Monday 4th February
Grenada, Carraicou to St. Vincent and the Grenadines: Thursday Feb 7th
Union Island, Castella's, St. Vincent and the Grenadines, Tobago Cays
Wallilabou, Bequia, Vieux Fort, a typical day, run over while in the dingy
St. Lucia, Marigot Bay, Soufriere, Rodney Bay, mooring knot comes loose
Martinique, St. Pierre, Mount Pelee
Dominica, Emerald Pool, Trafalgar Falls, Bay Leaf Oil extraction, Granny Jemima
The River Sallee, Guadaloupe to Antigua, Nelsons Dockyard
Antigua, Shirly Heights, St. Johns
St. James Club on Antigua, Nevis, Killer Bee's at Sunny's, Satia
St. Barts....aaaaah St. Barts, and Anguilla
British Virgin Isles, Foxy's on Jost Van Dyke, Tortolla, Virgin Gorda, Deadman's Cove, snokling on Sea Dog Island, Billy Bones on Norman Island
The showers of the Carribean!!!
Final Edition - St. John's and then back to Trinidad