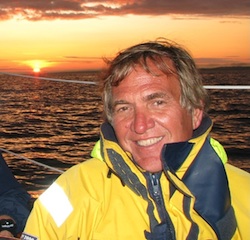 Overall sailing experience of 30+ years.
Degreed in Chemical Engineering, now partially retired and living in Warenton, Va.
Experienced in marketing and marketing management, fiber reinforced plastics,
computer programing and Information Technology.
Owner of Hunter 33.5 on Lake Michigan(15 years)
15k Blue Water miles
Email dbowen0849@gmail.com
Blue Water Experience
Caribbean
1500 mile trip from Trinidad to US Virgins and back during the winter of 2002. 2 person 5 day passage returning from St. Johns to Trinidad. Visited 14 countries and many, many islands during this 3 month voyage. Vessel was the 41 foot cutter, The Mollymawk of Vancouver. Significant experience was weather to Force 6/7, numerous anchorages, and navigation using paper charts. More info here

3 month trip from Key West, Florida to San Andres, Columbia during 2004 on the 43 foot cutter Freya. Significant experience was weather to Force 7/8, difficult anchoring situations, freeing vessel in run aground situations, navigation using state of the art computer, GPS, and Autohelm interactive systems, weather downloads via satellite, and onboard email using Single Sideband Radio, Water makers, onboard power generation. More info here

Pacific
3 month trip during 2006. We started in Papua New Guinea and the Philippines aboard the 120 foot sailing vessel "Infinity". Significant experience includes; gale conditions at night(Force 8), 12 day passage from Hermit Island into the Philippines, numerous night squalls, sail repair, Satellite telephone and email, food and general boat provisioning, catching rain water for use when the water maker wouldn't work, taking the water maker apart, onboard power generation, and cooking for a lot of people. More info here

4 month trip in 2012 starting in Panama, then thru the Canal, and on to the Galapagos and the Marquesas Islands in a 36 ft Southerly 115. The major leg was over 3k miles(28 days at sea) from the Galapagos to Nuku Hiva. More info here

South America
8 month trip in 2009 to Brazil, Uruguay, Surinam and Argentina aboard the 44 foot French built aluminum yacht "Saga", an Allures 44. With a centerboard keel, we were able to visit and anchor in unique places. About 5000 miles total, the trip included five 4-6 day passages. We toured Rio de Janeiro(and Carnival), spent a month in the jungle in Surinam, and visited Florianopolis, Paraty, Ilha Grande, Rio Grande, Punta del Este, Montevideo, and Buenos Aires. Videos of the trip on YouTube. Photos on Flickr

Race to Mackinac
Participated in a 330 mile freshwater race from Chicago to Mackinac Island in 2009 aboard "After The Storm" a Cape Dory 30. Videos of the race on YouTube.

Great Barrier Reef in Australia
4 months sailing and diving on the Great Barrier Reef in 2010. Starting in Brisbane and ending in Cairns, we stopped at the Whitsundays, Percy Islands, Lady Musgrave, Northwest Island, and many others. Highlights were the cyclone that ran us off the reef, turtle hatchings, and the large amount of underwater sealife.

Other
I can cook, have no special dietary needs, and do enjoy an occasional vodka tonic or glass of wine. I am PADI certified Advanced Scuba diver with additional certifications in Nitrox and Cavern diving. I also can work on diesel engines. I'm an avid fisherman and bring gear to fish off the back of the boat. I love ceviche from fresh fish.