Wow! What an adventure. Mary and I spent 4 weeks diving in the Visayas around Cebu Island with Sea Explorers, who have numerous diving operations around the islands. We went island hopping and spent one week at each location before taking a banca boat to the next location, sometimes diving along the way. We dived at such locations as Moal Boal on Cebu Island, Pescador Island, Dauin on Negros Island, Apo Island, Cabilao Island, Pangangan Island, Malipascua Island, Gato Island, Calangaman Island, and Chocolate Island. The banca boats with their outriggers proved to be an exciting new experience and a very efficient vehicle to dive from. I ended up with 70 dives in this adventure. This was a trip I would recommend for any diver.
You can see all the photos of the Philippines trip here.
The first week was at Love's Lodge in Moal Boal. The reef wall at Pescador Island was the highlight here with white tipped sharks at the wall bottom(130 feet) and some giant frogfish on the wall. Along the nearby house reefs, we saw some nice juvenile bat fish, numerous scorpion fish, lion fish(of course), hawksbill turtles with remoras over 3 feet long attached to their backs, a smaller remora that attached to my tank, and one very large Napolean fish. This was my first serious encounter with nudibranchs and we found them all over on each dive including a reticulated wart slug.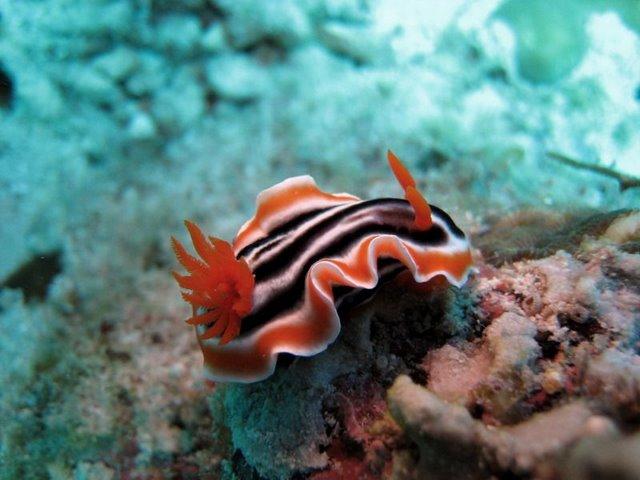 Next was Pura Vida Resort at Dauin near Dumagette. The resort is owned by Sea Explorers here and I must admit this week had the best accomodations and food of our whole trip. We met a lot of European people vacationing including a Swiss gentleman who's sister lives about 2 miles from me in Valparaiso, Indiana. Wow, the world is getting small!!
Two of the Top 10 dives in the Philippines are here near Pura Vida. The first is the Pier, actually just a pier at a coconut oil plant. But once you go under, the critters are everywhere. We did this dive twice. It's amazing how many different varieties of sea life live here. Frog fish, seahorses, nudibranchs, spade fish, scorpion fish, leaf fish, pipe fish, and many others. You can find just about everything but the whale shark.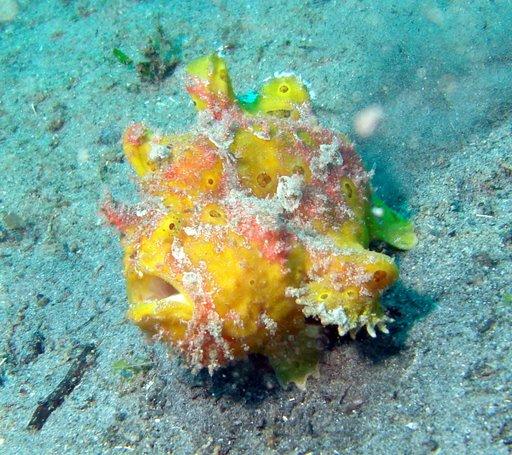 Apo Island is about 45 minutes from the resort and the second Top 10 dive. The most beautiful coral that I've ever been around is here, very healthy and very colorful and very big. We encountered numerous banded sea snakes, the largest being 10-12 feet long. Two cuttlefish and a very large black giant frog fish were also among the creature highlights. Taking a stroll through Apo Village and having lunch at the "Community Eatery" between dives was a really unique treat.
Along the nearby "house reefs" at Pura Vida, I saw ornate ghost pipe fish, devil fish, razor fish, banded pipe fish, leaf fish hidden among the anemones, and blue spotted rays. The local reef is a quite steep sandy bottomed dive with coral outcroppings where the creatures seem to be concentrated.
Next was Cabilao Island. We had to take the Superferry due to the weather so we weren't able to dive at Balicasag Island. Cabilao Beach Club is quite unique, very charming, and very well run. By far, the most comfortable hammocks on the trip were here. It was a delight snoozing in the shade between dives. This island only has power 5 hours a day,
Underwater Video
but a simple solar water heating system at the Beach Club produces sufficiently warm water if you shower in the afternoon. There's also a solar power generator to recharge electrical equipment. The best suprise of the week at Cabilao was that we hardly touched our dive equipment the whole time unless we wanted to. You just put your wet suit on and go to the boat, your equipment is already there and waiting for you. hey They also put it up for you at the end of diving each day.
Cabilao Island is surrounded by a very well developed reef wall. Every dive was just very good. You just never knew what was going to show up. Large crocodile needle fish, the usual scorpion fish and lion fish. We did an early morning dive every day. Once we saw some nice schools of big jacks that we were able to swim with. A large giant barracuda was feeding one morning, hanging vertically in the water and then darting up 10-15 feet every now and then to eat a fish. There are also two large Napolean fish here that we saw a couple of times and several nice juvenile bat fish(one of my favorites). No hammerhead sharks though. They are long gone. The highlight of this week came on the last day of diving when an angler fish over 2 feet in length was seen. A light lime green, he was absolutely huge, then left his coral perch and swam off so that we could watch him for a minute or two. If only I had a video camera....this was not only the largest frogfish but also the best frogfish siting of the whole trip. He swam right by me with his mouth open and his lure dangling above.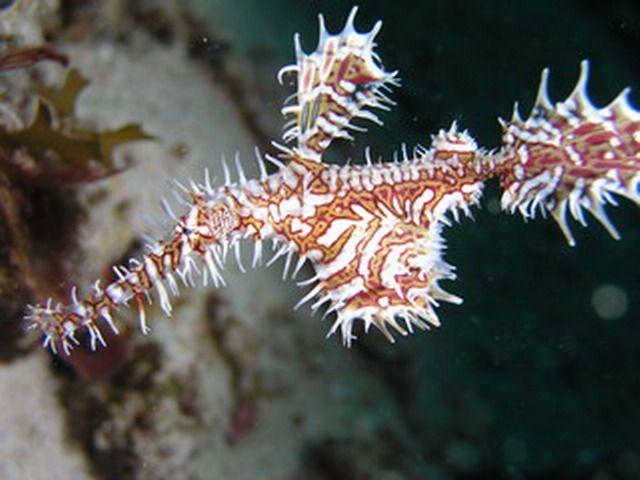 The final week was at Malapascua Island. There are several good restaurants and resorts here, as well as a nice sandy beach that invites you to go barefoot the time. We stayed at Hippocampus, right next to the dive shop. A very nice place to have coffee and breakfast on the beach while reading your book under the tree each day. It's that kind of place.
The Sea Explorers dive shop here also took care of our equipment the whole week. It was really nice just walking onto the banca boat barefoot in swim trunks and a t-shirt every day. Everything was on the boat and ready. A quick equipment check, a short boat ride, don your equipment, and you are ready to dive.
Gato Island diving was the highlight at Malapascua to me. The best dive there is going under the island through the tunnel(about 80 meters), and watching the white tip sharks when you exit. I was able to get within 5 feet of one. Three cuttle fish, two were mating, were seen here also.
An equally nice dive at Malapascua is the sunset dive at the Lighthouse. We were able to watch a "colony" of 6 or more mandarin fish. You can observe them mating if you are very quite while you watch. We did that and saw the little guy have a lot of fun with the ladies...lol. On the same dive, there seems to be a colony of common seahorses nearby. We saw 10-15. All were 6-9 inches long.....unbelievable. I believe I saw more seahorses and mandarin fish on this dive than I had seen on 200 prior dives in total.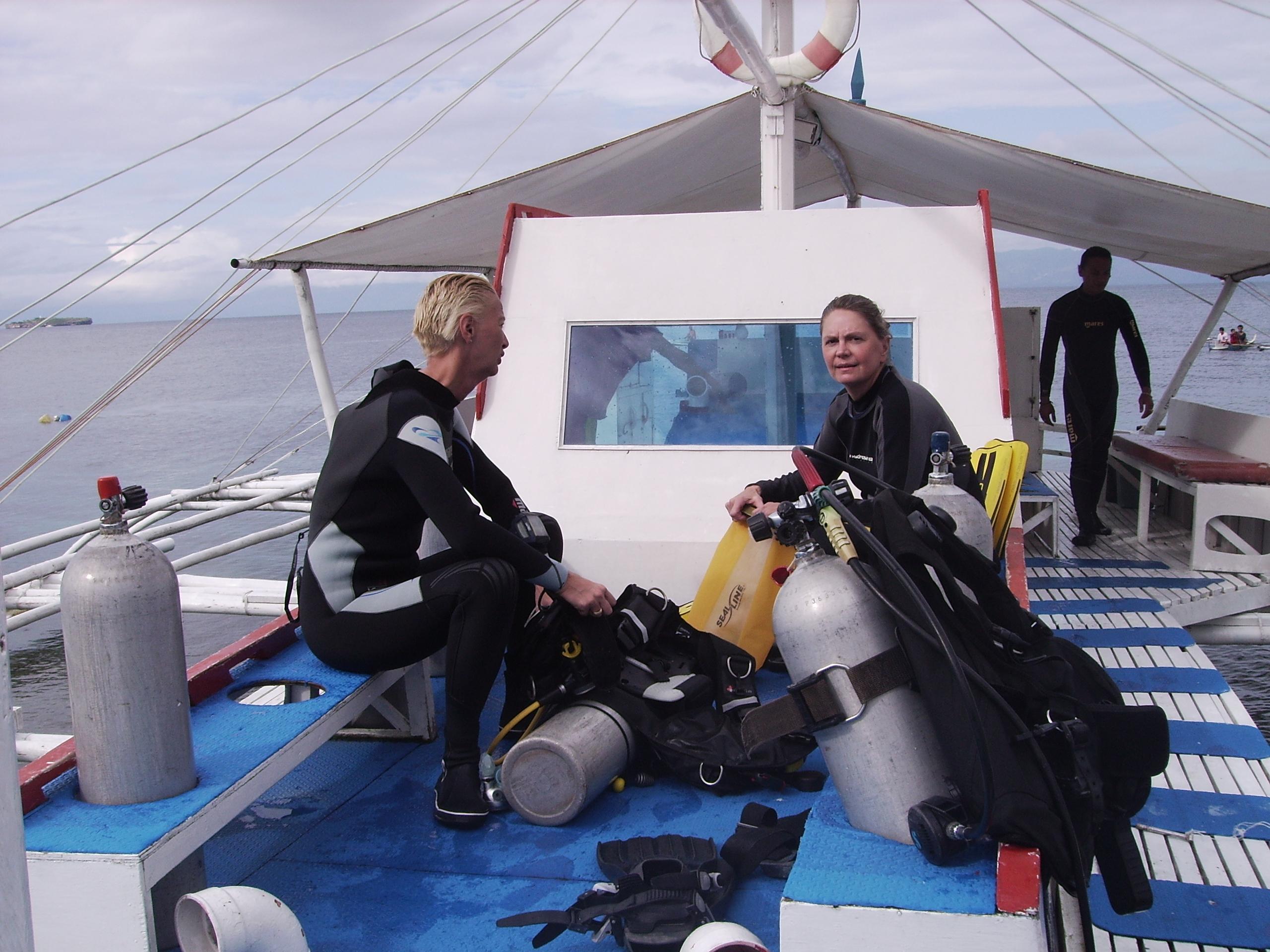 The thresher shark dive at Monad Shoal is a "do or die" kind of dive. You just go down to 55-65 feet and sit on the bottom for 45 minutes. If they show, you do; if they don't show, you die. I died!! I did it 3 times and they didn't show up. And the last day I decided not to try it again, so you know what happened that day. Thresher sharks!! Oh well......
Chocolate Island was also a great dive site. While the visibility was quite poor and the dive started out quite questionably, we ended up seeing the largest and most unique nudibranchs of the trip, some great purple scorpion fish, two giant leafy file fish, a juvenile short finned lion fish, and a great large banded sea snake.
Bantique was seemingly at first not much more than a shallow, sandy bottom dive but what we found made it one of my favorite dives. If you enjoy searching the sand, this is the place. We found a snake eel that liked his back rubbed, two cuttlefish, an octopus that built his own daytime bungalow from two shells, a pegasus fish(sea moth) that got caught by a crab, two flathead fish buried in the sand(these are quite rare), and numerous large burrowing sea cucumbers that constantly curled and uncurled their arms on the sea bed feeding themselves. I ran into the most aggressive clown fish I have been around here. They bit and pulled my hair one day. Another time, one attacked me by charging into my hair and giving me a hard thump(or 3) on the head. I decided to abandon the "don't touch the sea creatures" program for a bit and swatted the little bastard away.